---
Features of EBB and cleansing mechanism
Effective bacteria (bacillius subtilis natto)
repeats propagation every 30 minutes
---
Cleansing method that makes maximum use of "fermentation" mechanism based on aerobic bacteria and porous stones.
When effective bacteria come in contact with water, they start propagation in the porous stones and disperse outside of the block. Organic matter is sucked in by the EBB Bacteria, settles, and decomposes,clarifying the water. Because necessary nutrients are encased in the block, EcoBio-Block remains effective for a long period of time.

---
Characteristics of EcoBio-Block bacteria
Superb decomposition of organic
matter and nitrification 
---
EcoBio-Block degrades organic matter and ammonia, which makes water dirty, while removing odors.
→Absorbed by plants as nutrients, resulting in renewal of the water
→Absorbed by chemotropicbacteria, converted
into nitrogen gas and dissipates into the air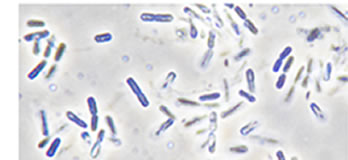 Viable temperature:~ 110℃ (230°F) dormant under 10℃ (50°F)
Range of effective propagable temperature:10℃ (50°F) to 65℃ (149°F)
(The most active temperature is from 25℃ (77°F) to 60℃ (140°F)
PH level:PH3 - PH11 (viable from strong acidic to strong alkaline condition).
EBB bacteria are aerobic bacteria and need oxygen.
Viable in air and water.
Degrade colon bacillus, putrefaction bacteria and sanitize
※EBB Bacteria is dormant under 10℃ (50°F) and at that temperature the effectiveness of the cleansing mechanism is low, but bacteria are alive.
※EBB Bacteria must propagate in order to be effective.
 Points to check: 1.) water temperature 2.) dissolve oxygen level 3.) total suspended solids
Complaint filed regarding stench.
Two weeks after installation of EBB
, significant improvement was observed and the odor was eliminated .
About a year ago, the beautiful waterways in Yanagawa were befouled with a bad stench. These days no such odor can be found. Sometimes odors arise where the wastewater flows in, but since this is a routine occurrence, it is considered unavoidable. Downstream however, we were surprised to see many fish, demonstrating an obvious improvement in water quality. In the areas where the fish live, the BOD value was less than 5.

Immediately after installation
: BOD=1400.
Stench is documented.
Black sludge covers channel.

2 weeks after installation
:BOD 28.
Microbes multiply in the
sludge, the sludge
becomes white.
Culture of Bacillus Coli.

 Before EBB  treatment

430,000 

 9 days after  installation

98,000 

 37 days after  installation

2,400 
Before EBB
treatment

After EBB
treatment

unit

 PH

***

 BOD

1400

2.8

mg/l

 COD

130

6.6

mg/l

 TSS

3800

36

mg/l

 NH3N

***

***

mg/l

 Soil Turbidity

***

***

NTU
 BOD
EBB Before

1400

EBB After

2.8

 COD
EBB Before

130

EBB After

6.6

 TSS
EBB Before

3800

EBB After

36
---
Performance test of EBB and result 2
Test Site: River Maintenance in Nobeoka-shi, Miyazaki Measurement Client: Land, Infrastructure and Transportation Ministry
---
After installation of EBB, black sea breams could be observed swimming,demonstrating that the river is clean enough for fish to live in.